New Delhi: Narendra Modi flashed a triumphant V as he reached his party's office in Gandhinagar on Friday evening. The victory he was signalling is historic. The former RSS pracharak has led the BJP to the strongest showing by a political party since 1984. (India Decides 2014: Track Live Results)

The party is set to win 281 seats on its own, nine more than the majority mark – which means that it could have formed government even without its pre-poll allies.
(Track Party-Wise Result Here)

Together with its allies in the National Democratic Alliance, it will win more than 330 seats, which will ensure that it needs no post-poll allies to help form a stable government.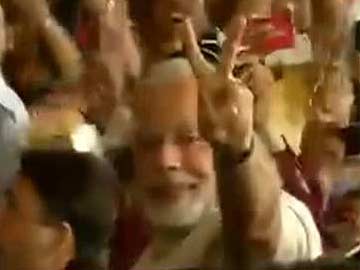 Thirty years ago, the Congress had swept the general elections in a sympathy wave after the assassination of Prime Minister Indira Gandhi. The BJP, then a four-year-old party, had won two Lok Sabha seats. (India Decides 2014: Live Blog)

"Gone the days of fractured mandate. Gone the days of mathematical politics in India (sic)," tweeted the BJP's Shivraj Singh Chouhan, who is chief minister of Madhya Pradesh, which has voted overwhelmingly for his party.

At the BJP's Delhi headquarters, party chief Rajnath Singh said today, "It is a people's mandate for a change. The time has come to rewrite India's success story." He credited the "hard work and dynamic leadership" of Narendra Modi for the win. Outside, supporters chanted "Modi, Modi." (Rajnath Singh Congratulates Narendra Modi)

The man of the moment was alone in a room at his home in Ahmedabad for three hours from 9 am, watching results come in. He stepped out at noon to meet his mother Hiraben, 95, and tweeted a selfie of her blessing him. (On Victory Day, Modi Tweets a Selfie With His Mother )

Among the first to congratulate Narendra Modi for their party's performance was BJP veteran LK Advani. He had staged public sulks last year when Mr Modi was elevated in the party. More recently he moved a no-confidence motion against Mr Modi by seeking to contest from Bhopal and not Gandhinagar in Gujarat, the latter's turf. (Modi's Role in BJP Victory Needs to Be Assessed, Says Advani)

One of the first key decisions Mr Modi has to take is what role Mr Advani will play in the new dispensation. The Rashtriya Swayamsevak Sangh or RSS, the party's ideological mentor, has said it wants the senior leader to have a mentor-like role. Mr Advani has reportedly professed interest in being Speaker.

With the kind of dominance he has won in Parliament today, Mr Modi is unlikely to have misgivings about giving Mr Advani the Speaker's post. He also has to decide on a role for Sushma Swaraj, another senior BJP leader not quite close to him. Ms Swaraj has reportedly said that only one of the top four ministries – home, defence, finance and external affairs – is commensurate with her seniority. (Sushma Swaraj Wins, Circumspect About Joining Modi's Government)

"It is BJP's victory; it will be the Prime Minister's prerogative to choose who will be in his Cabinet," she said today.

The BJP's performance today is powered by a huge win in Uttar Pradesh, where it is set to win 72 of the state's 80 seats.

Credit:
http://www.ndtv.com